I'm usually shocked to see folks lifting weights without a set of lifting straps when I walk into a gym.
The extra grip may increase safety even for lower weight ranges. But lifters could see the most significant differences for those soft rep sets.
As a long-time fitness teacher, I've regrettably come across many more faulty lifting straps than I should have. I looked into the top lifting straps available because I've had some rip during a deadlift, and others produce excruciating blisters.
If you want to utilize the best weight-lifting straps, look at the ones below because we subjected them to a lot of testing.
Grip Power Cobra Grips 
They may significantly increase your grip strength and are quick and straightforward to put on and take off as needed.
Once you've chosen the proper size for your wrist straps, the neoprene cushioning should prevent any pressure spots or friction.
Many customers mention how it helped increase the number of reps in their regular workouts and how beautifully made and designed it is.
However, when it comes to sizing, be very cautious. Some customers advise purchasing a slightly larger size than your actual dimensions to be safe.
Before lifting heavier weights, allow yourself a few modest lifts to become accustomed to the best hand location and grip.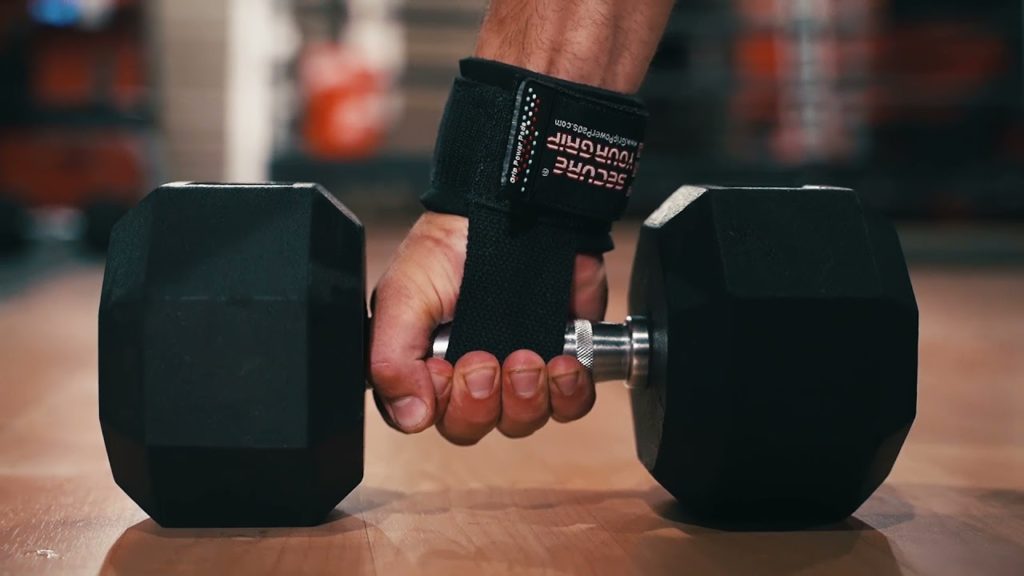 You have a year to test this simple lifting strap, and if you don't think it works for you, you can return it or swap it for something else.
Harbinger Cotton Lifting Straps
Athletes who occasionally experience additional pressure or strain on their wrists with large weights may find the Harbinger cushioned cotton lifting straps beneficially.
You might be able to release that tension without harm by employing cushioned cotton lifting straps. This is especially important for weightlifters who want to avoid their wrist straps biting into their flesh.
You'll appreciate the options Harbinger offers if you carefully coordinate your exercise clothes by colour. If you want your weight-lifting straps to match your gym bag, it's ideal.
The colour choices are trendy. However, some individuals have observed that there are occasions when they don't provide much grip.
Remember that this wrist protection can feel a little snug if you have a large wrist. However, the length of these lifting straps can give the bar a firm wrap, allowing you to lift more efficiently.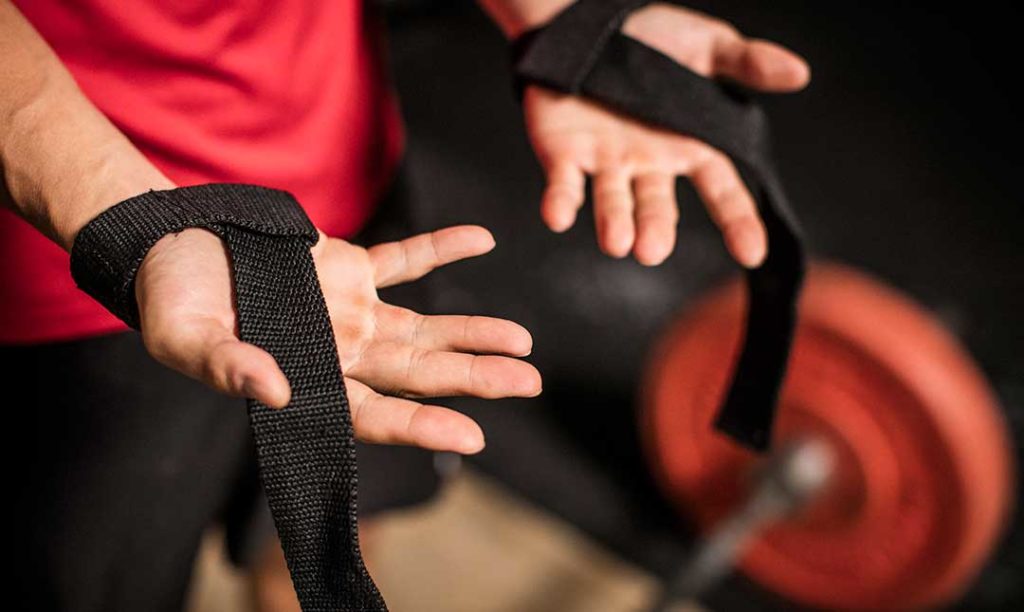 Dark Iron Fitness Leather Lifting Straps
Leather lifting straps can provide two positive benefits. Compared to cotton or nylon straps, they ought to be far more durable and offer a good deal more grip.
We also like that these lifting straps could be appropriate for lifters who enter the competitive weight categories due to the additional layers of reinforced stitching.
It should be simple to wrap around a barbell two to three times if it has a long, thick wrist strap available in 2 and 3-mm thickness options.
Some people chose 2mm at first. However, there have been instances where it ripped in the middle of a routine. The business was kind enough to update it to a 3mm, which was far more durable than the prior thickness.
Grip Power Pads PRO
Another set of padded neoprene weight-lifting straps, according to the manufacturer, may be helpful for those who have sprains or other ailments.
Additionally, we discovered that some people might prefer the longer length, mainly when using heavier bars and needing the highest level of assurance in your lifting straps.
You may select the most appropriate one to support you with the most challenging lifting workouts from three possibilities with varying lengths.
However, after a long session, the cross pattern that holds the foam in place may leave bizarre imprints on your wrists.
Anvil Fitness Lifting Straps
It should be a little bit simpler and quicker to wrap the bar two to three times with the help of this closed-loop lifting strap. Additionally, we appreciated the smooth edges because alternative lifting straps might quickly develop blisters or calluses.
The neoprene cushioning could also be sufficiently thick to provide some defence against wrist injuries. The additional cushioning can be helpful if you've previously suffered from sprains.
According to some customers, this set of lifting straps barely lasted about 2 weeks. In contrast, it lasted around 2 years for others without much wear and tear.
Giving newcomers guidance on using these lifting straps would be helpful, too, because doing so incorrectly will reduce their lifespan.
Nordic Lifting Straps
As it appears to be quick and straightforward to achieve a comfortable silicone grip for lifting or pull-ups, we enjoy the Nordic weight-lifting brand and its one-size-fits-all easy lifting strap design.
During your most demanding lifting workouts, its extra-long, heavy-duty lifting straps may offer wrist support, avoiding grip fatigue and enhancing stability so you can lift greater weights with assurance.
These well-made wristbands are also perfect for various grip-training routines, including pulling exercises that target your traps, powerlifting, and gym workouts.
An extensive selection of colours is available for these heavy-lifting straps, allowing you to match them to your other weight-training accessories.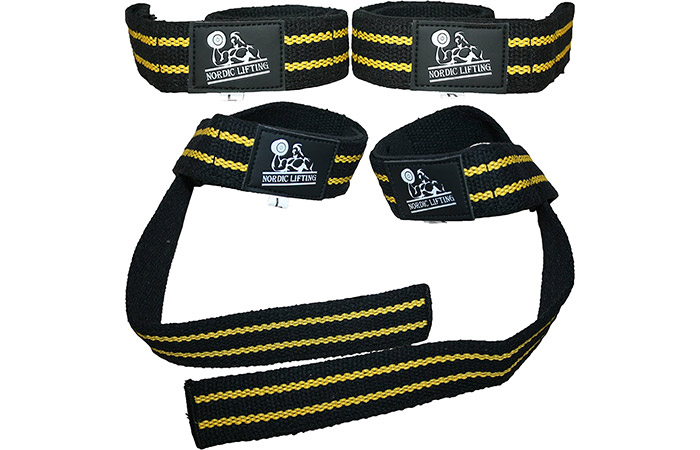 Heavy-Duty Figure 8 Lifting Straps made of Steel
Many powerlifters like the Serious Steel Fitness Figure 8 Straps because the design may lessen the possibility of sliding or losing hold.
This set of lifting straps is better suited for those with some competence and expertise because it was created expressly to prevent errors when deadlifting.
We appreciated how carefully the sutures were placed, which should prevent even tiny pressure points that may result in painful blisters.
Each lifting strap physically stays fastened to the wrists even when you try to release it because of its figure-8 form. This characteristic makes it one of the safest and most dependable weight-lifting straps available on the market.
IronMind
These cotton lifting straps from IronMind include a single loop that makes adjusting and attaching to the barbell quick and straightforward.
There are several compliments on the enhanced grip, especially how quickly they release after a set is complete. After finding the proper tension, the strap was comfy with no troublesome painful places.
Due to the tremendous strength of the premium, well-made material, it's an excellent option for both beginners and experienced lifters with big weights like a barbell.
Like most internet users, we were taken aback by how effective this straightforward lifting strap was. It has a robust and sturdy appearance thanks to the premium cotton used for the belt.
Stoic Olympic Lifting Straps
Another leather alternative is the Stoic Olympic straps. This time we were pleasantly impressed by how quickly the leather materials broke in.
The design of this short-weight lifting strap makes it easier and quicker to get ready for the lift.
And compared to specific nylon straps that appear to be popular, the leather straps seem pretty sturdy.
Additionally, it disperses weight throughout the hand rather than focusing it at the wrist, improving the lifting sensation.
Weightlifting Spud Straps
The Spud weight-lifting strap, which has received positive user feedback, is the last in our list of the ten best straps and may last years of rigorous lifting.
Customers claim it's the most resilient brand they've come across that won't shred, and the firm grip is strong even with heavy sets.
The straps are initially slippery and inflexible. However, some people have noted that they become more flexible after the second or third washing.
Additionally, we didn't see any stretch in them, which should boost your confidence as you perform each lift.